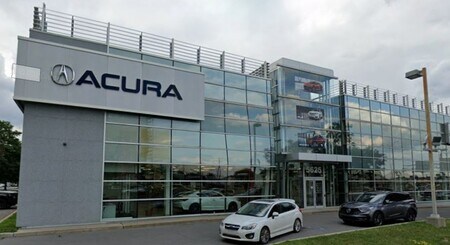 Live The Acura Experience
Welcome to Acura, your trusted Acura dealership that strives to make every effort to ensure your satisfaction. For all your needs in terms of Acura services and products, Acura wants to be your number one destination. We are proud to have had the opportunity to represent the Acura brand with passion and dedication for many years and to have had the privilege of serving our distinguished and loyal customer base in Montreal, on the South Shore of Montreal, and in Laval and the North Shore. At Acura, our level of customer service will exceed your expectations. Our team aims to offer an environment where honesty and integrity prevail, and where you will be comfortable making the purchase of a new or pre-owned Acura vehicle, or to have maintenance performed on your Acura.
Discover the Complete Acura Lineup at Acura
Since arriving on the North American market, Acura has stood out by offering luxurious and safe vehicles that also prove to be reliable. In addition, the Acura line has been renewed in recent years with more technology, better efficiency, and more powerful models. Let's take a look at some of the premium Acura cars and SUVs currently offered at Acura. 
Acura ILX
If you want luxury without the price tag, the Acura ILX is the answer to your needs. With the new Acura ILX, you get some of the most premium features and technologies available in a luxury vehicle at a price that won't break the bank. You'll have trouble finding a vehicle that offers more value than the Acura ILX.
Acura TLX
The Acura TLX was completely redesigned just a few years ago. It is offered with a choice of two engines in an efficient and refined transmission and, more importantly, offers plenty of value to its owners. There are plenty of Acura TLX versions available at Acura and you are sure to find the right one for you and your family.
Acura RDX
Completely redesigned in 2018, the new Acura RDX is among the most spacious and versatile compact luxury SUVs available on the market today. The new Acura RDX boasts more power than its competition and has an impressive list of technologies to meet the needs of young and active families.
Acura MDX
The Acura MDX has developed quite a reputation in the mid-size luxury SUV segment. The MDX is very spacious and versatile. The new MDX has the luxury features you want, including heated and ventilated seats as well as the latest active safety technologies to keep you and your family safe. The MDX has three rows of seats and offers plenty of space for all passengers. It has a powerful V6 engine that's highly efficient and has an impressive towing capacity. There is a wide range of versions to meet the needs of every type of buyer, so it's no wonder that the Acura MDX is so popular.
A Large Selection of Pre-Owned Vehicles at the Best Price 
Acura also offers a collection of reliable pre-owned vehicles that have been inspected and a wide range of financing solutions including several second chance credit solutions. You should definitely stop by Acura and see what we have to offer! We believe in making the pre-owned experience enjoyable and in providing our clients with incredible prices but, more importantly, in providing them with a level of customer dedication and service that only our New Vehicles Sales Department can rival. Buying a pre-owned luxury vehicle shouldn't feel like you're buying a used car, it should feel like you are making a very important investment because that's what you're ultimately doing. You, therefore, want to do business with a dealership that understands the importance of the purchase you are about to make and that won't treat you like just another number. 
If your Acura needs maintenance or repairs, trust our service department at Acura. Our team of technicians and service advisors have many years of experience with Acura vehicles, and they know how to maintain the safety and reliability of your car or SUV.
Your Acura Dealer in Montreal
Whatever your needs in terms of Acura vehicles in Montreal, Acura has the key to all your worries. Whether you're looking for a new car, offering luxury and technology, or a pre-owned vehicle offering reliability and quality, our team of advisers will know how to meet your requirements.
Because with us, we offer the pleasure of a pleasant and worry-free shopping experience. Our specialists will guide you through our inventory of new Acura vehicles and will help you discover the technologies and qualities which have given our brand such an outstanding reputation.
You're tempted by a used car? Acura has many models of quality pre-owned vehicles, many of which have been certified as the best buy in their category.
A warm welcome
Whether it's in person, or through our chat tools, our team of specialists will be pleased to guide and support you in the purchase or lease of your next vehicle.
They can also direct you to our experienced advisers who will propose financing solutions that meet your needs. Or put you in touch with our specialized technicians who will take care of your vehicle because they know it better than anyone else.
Take the time to browse through our online inventory, or come and meet our advisers. You will discover at Acura a team of enthusiasts who will make you a satisfied driver.